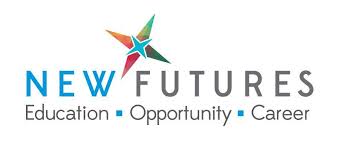 New Futures awards scholarships for Certificate and Associate degree programs to students in the Washington, DC region. 
Award Amount
Deadline
Degrees offered
Certificate/Non-Credit Vocational Training
Associate Degree
Award Type
Books
Fees
Supplies
Transportation
Tuition
Documents Required for Submission
Complete Application Form
FAFSA (if eligible)
Transcripts (High School/GED/Previous College)
Letters of Recommendation
Essay
Legal Status
US Citizen
Permanent Resident
Visa Holder
DACA
Undocumented
Residency
District of Columbia, Maryland, Virginia
Secondary Credential Obtained
US High School Diploma
US GED
Non-US High School Diploma
Student Status
HS credential seeking
HS credential obtained
Currently enrolled in post-secondary
Other Eligibility Requirements
Scholarships are awarded to students in the DC metro area who are pursuing associate degree or post-secondary certificates. View scholarship website for additional eligibility requirements.