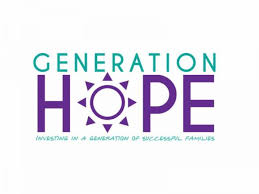 Generation Hope began in March 2010 when Nicole Lynn Lewis, a former teen mother who attended the College of William & Mary while raising her infant daughter, decided to put her dream of helping more teen parents beat the odds in motion.  She envisioned an organization that would encourage and support other teen parents in their pursuit of a college degree. 
Award Amount
$1,200/year for 2-year college, $2,400/year for 4-year college
Deadline
Degrees offered
Associate Degree
Bachelors Degree
Additional Supports
Field Trips/Activities
Mentor
Trainings
Tutoring
Documents Required for Submission
Complete Application Form
FAFSA (if eligible)
Proof of Post-Secondary Enrollment
Proof of Residency
Transcripts (High School/GED/Previous College)
Letters of Recommendation
Essay
Legal Status
US Citizen
Permanent Resident
DACA
Residency
District of Columbia, Maryland, Virginia
Secondary Credential Obtained
Non-US High School Diploma
US GED
US High School Diploma
Student Status
HS credential obtained
Currently enrolled in post-secondary
Other Eligibility Requirements
Scholarship applicants must be a teen parent (defined as pregnant/expecting by age 19) and 25 or younger at the time of application. View scholarship website for additional eligibility requirements.
Scholarship is limited to
Young Parents